This article may contain compensated links. Learn more in our disclaimer.
---
What is the best cat carrier backpack?
What are the options, and how to choose the one for your needs?
There are different types of cat carrier backpacks. There are well ventilated cat carrier backpacks, cat backpacks with bubble, expandable cat carrier backpacks and sling carrier bags. The materials they are made of vary, too. Since cats sizes don't vary that much, most of the cat carrier backpacks are about the same size.
Let us help you to find the best cat carrier for hiking.
Check out this list below!
Best Cat Backpacks: Best Cat Carrier Backpack for Hiking
What are the options? And which one to choose?
Some of these backpacks are available in different colors and sizes. For availability, more photos, latest price and user reviews check them out on Amazon. Just click on the name or image of the backpack.
A cat carrier backpack with a large viewing panel.
Overall the best cat carrier backpack for walks, our favorite.
Spanning the front of the backpack, the large viewing panel allows your cat to enjoy the scenery. Thanks to the 9 large ventilation holes that ensure fresh air for your pet, this backpack is safe for short and long walks. There's a zippered opening on one side which is very nice to have for the times when your pet is nervous. So you can reach in and pet your furry friend when they're scared.
The Lollimeow pet carrier is made of high-quality pet-safe materials. It is water-resistant, lightweight and easy-to-clean. Its built-in security leash makes sure your pet won't escape when you open the carrier. The soft bottom ensures your they will stay comfortable throughout the walk.
The cat carrier backpack comes in two styles — regular or expandable.
The expandable model features an easy-to-expand back which, when expanded, resembles a tent. This tent-type mesh structure provides more room for playing when you stop to have a rest with your pet. Walks are surely more fun with the Lollimeow carrier backpack!
This carrier can be taken on board on most airlines.
Available in several colors.
WEIGHT CAPACITY: Up to 12 lbs (5.4 kg) for cats; up to 10 lbs (4.5 kg) for dogs
DIMENSIONS: 16.5″ x 11.4″ x 11″ (42 x 29 x 28 cm)
A soft-sided pet carrier backpack with 2-sided access.
It's a carrier backpack designed with comfort and safety in mind. Use it for short and long walks, as well as as a pet carrier when visiting the vet. Thanks to its cool features, your pet will always travel in comfort.
The 2-sided access makes it easy to reach and feed your pet, the soft lining at the bottom gives your pet a place where to lie on in comfort. Its multiple mesh screens offer better airflow, which is one of the most important things when choosing a new cat carrier. What we like the most about this pet carrier, is its zip up mesh window for more headroom and visibility for your pet.
Not only this backpack is comfy for your pet, but also for yourself. The back panel and shoulder straps are well padded for extra comfort during long walks. This pet carrier backpack comes with waist strap and chest buckle for extra support. The firm structure prevents the bag from collapsing on your pet while traveling.
There are exterior pockets where you can keep some essentials.
What else? There's a name tag on the front pocket and reflective straps.
The bag comes with a collapsible pet bowl.
WEIGHT CAPACITY: Up to 18 lbs (8.2 kg)
DIMENSIONS: 16.3″ x 12.5″ x 10.2″ (41.4 x 31.8 x 26 cm)
A high-quality large cat backpack for hiking.
Due to its sturdy build and size, it is the best cat carrier backpack for hiking (more than an hour or two) and the best cat carrier for large cats.
First of all, it's a great, water resistant and comfortable backpack. This cat backpack for hiking has padded back and shoulder straps for extra comfort. The bag is machine washable and features a removable interior pad – easy to clean. Secondly, it's a versatile bag, which you can use both as a pet backpack and as a regular backpack. There are both compartments for your pet and your belongings.
On the front and top of the backpack there is a padded handle, so you can carry it in several ways — on your back or in two ways in your hand. And it also has a waterproof bottom, which adds both to comfort of your pet and ease of use.
Even though it's a carry on size pet carrier backpack, always double check the carry on guidelines of the airline you're flying with. They aren't the same for all airlines, and they also tend to change.
The bag is available in two colors.
WEIGHT CAPACITY: Up to 25 lbs (11.3 kg)
DIMENSIONS: 21″ x 13″ x 10″ (53 x 33 x 25 cm)
An expandable cat carrying backpack. 
The best cat backpack for travel, if you are looking for a carrier backpack with an expandable design. Once expanded, the pet backpack resembles a tent. This tent-type mesh structure provides more room for playing when you stop to have a rest with your pet. The mesh top of the Pecute carrier backpack can be unzipped open, for your pet to stick their head out.
In addition to the mesh top, there are 4 ventilation holes for your pets comfort.
The removable double sided bottom keeps your pet comfortable in all seasons.
Use the soft side to keep your pet warm in winter, and the other side to keep them cool in summer. The bag has a built-in safety strap, which can be connected to the collar of your pet. This will prevent your pet from escaping or falling out. There are two pockets on either side of the carrier bag, one for waste bags or a water bottle, another for your own essentials — a mobile phone, wallet and other small items.
WEIGHT CAPACITY: Up to 18 lbs (8.2 kg).
DIMENSIONS: 17.3″ x 13.4″ x 10.6″ (44 x 34 x 27 cm).
A cheap cat carrier for summer walks.
The bag is designed for hot summer weather. Its well ventilated design makes the Texsens cat carrier backpack the best cat travel carrier for hot weather.  The multiple mesh screens ensure optimal airflow. This is the thing we like most about it — its multiple mesh screens which provide great ventilation and visibility. It's a great backpack to carry cat, as cats love to observe their surroundings. And this backpack allows just that.
The backpack is collapsible and features a removable, washable pad.
It features a sternum strap which keeps the shoulder straps from slipping from your shoulders.
WEIGHT CAPACITY: Up to 18 lbs (8.2 kg) for cats; up to 15 lbs (6.8 kg) for dogs
DIMENSIONS: 16.73″ x 13″ x 11.42″ (42.5 x 33 x 29 xm)
A very comfortable chest pet carrier. 
It's the best cat carrier for those owners who doesn't like carrier backpacks.
The main compartment (that's where you put your pet) has a zipper and a drawstring closure. This compartment has no cover — the head of your pet will stick out. To prevent your pet from escaping, there's a safety strap on the inside of the sling bag.
This cute sling carrier is made of leather and mesh. The super wide shoulder strap is well padded, and there's a pocket on it for your phone or something the same as small. The pocket has no cover, though. Thanks to its design, you can wear this sling cat carrier and a backpack at the same time. It isn't very comfortable, so don't pack your backpack too heavy.
The bag is available in several colors.
WEIGHT CAPACITY: Depends on the size. 5-14 lbs (2.3 – 6.4 kg)
SIZES: S – L
How to Choose a Cat Carrier Bag?
How to find the best cat carrier backpack for your pet?
Let's make this super simple.
Generally speaking mostly it's about these 4 simple things:
1. The Size of the Bag
Choose the right size backpack for your cat.
Even though sizes don't differ too much — it's nothing like with dog carrier backpacks, but still often bags are available in different sizes. So it's important to pay attention to that.
2. What Will You Be Using It For?
Short day hikes or long hikes.
Carrying a lot of gear or only the essentials.
Or it only needs to fit your cat and that's all?
This will determine, how big and how durable your bag needs to be.
If you are planning to use the carrier backpack only to carry your pet to and from the vet, you might as well choose another type of bag which is more suitable for this purpose.
3. Back or Front Carrier?
How to carry your cat? Should you put your cat in a backpack or a sling bag?
Well, it depends on what is more comfortable for you. To carry your cat on your back on in front of you? If your cat is large, the most comfortable way to transport it will be a backpack with well-padded shoulder straps and back. The best thing about having a frontal sling bag is that you can easily carry a regular backpack on your back. Not just a medium-size carry on backpack, but also a big 70-liter hiking backpack.
4. Your Budget
Decide upon your budget.
And choose the best backpack for cats that fits into it.
Hiking With a Cat on a Leash
How to hike with your cat?
To use a special traveler cat backpack or just use a leash?
Well, cats are known for having a mind of their own. If a cat doesn't want to go for a walk, it won't go anywhere.
Via GIPHY.
It just won't go.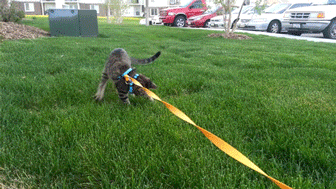 If you would love to take your cat with you on a walk, cat carrier backpacks and sling carriers might be the best option. Besides, it might not be the safest option for a cat to be walked on a leash. There might be other cats, dogs or other animals that may scare or even injure your cat.
Can You Use a Dog Carrier Backpack for Your Cat?
You can, only remember that cats mostly are smaller than dogs.
So, you'll have to get a small dog carrier backpack.
One more thing you should pay attention to – it's the opening of the carrier backpack. If it's not a zippered mesh flap, your cat may escape, as cats are more curious than dogs. If you already have this type of carrier backpack, make sure there is a safety clip for the cat leash. It will stop your cat from escaping.
What is your experience with cat hiking accessories? What's the best cat carrier backpack you have tried so far?